Ragi Ladoos – Nutritious & Healthy
Millets making a comeback due to their rise in demand by the people and the ability of millets to face climate change creating space on the farmers' fields. Finger Millet (Ragi) is widely accepted in India due to its ease in processing and making different recipes. Ragi Lodoos made by EarthPorna are creating food sensations in people's hearts.
EarthPoorna, a social venture by Sucheta Bhandare of Pune involving women in the business and procuring millets directly from farmers. Ensuring and supporting the livelihood of women and farmers.
Before going to the story let us understand the health benefits of ragi ladoos and how it is helping people in their health.
Health Benefits of Ragi Ladoos:
Rich in Calcium which is good for bones. It has been reported that 100 gm of ragi contains 364 mg of calcium.
It is gluten-free and it will be a good choice for people suffering from celiac disease.
Due to the low glycemic index, it is good for diabetic patients. The recent meta-analysis of millets has given us more evidence of their goodness in controlling blood sugar levels in our bodies.
It helps in maintaining good skin and prevents wrinkle formation and sagging.
Due to high fiber, it helps in better digestion and prevents constipation.
Ragi helps in checking the weight of the body by lowering the appetite and helps in the weight loss journey.
Related Post: Health Benefits of Finger Millet (Ragi)
---
After going through the health benefits of Ragi Ladoos, let us now listen to the Founder of EarthPoorna- Sucheta Bhandare a Social Entrepreneur who has taken the Ragi Ladoos to a great level and created a sensation among the people of India.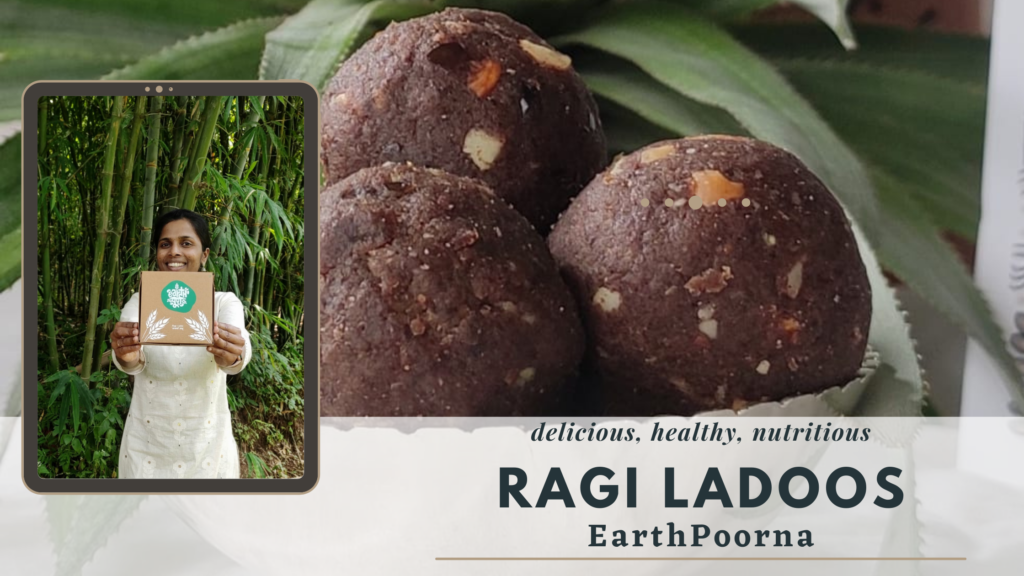 The short breaks at my school in Vadner used to be so interesting that even the thought of it makes me smile today. I used to take peanuts and jaggery, dates and grated coconut, roasted grams, and puffed rice some days, and seasonal fruits, pulses, and healthy and nutritious ladoos on other days.  During days-offs and holidays, my friends and I would go to the farms and happily devour whatever was growing there. Spending my childhood in a village in a village in the district of Nashik meant that I had no other option for the junk food that kids in the cities eat today.
Today, although I live in a big city like Pune, my hunger pangs are still fulfilled by such simple preparation. During times of exertion and exercise, I have realized the benefits of consuming such simple yet healthy preparations. All this was easily available to me back at home because my mother made it a point to put it in my Dabba(tiffin box). In cities, there are many out there who want to incorporate such a healthy diet into their lifestyle but have no time and sources to get hold of such products.
That is why we are bringing to you such preparations filled with love and health. A combination of your grandma's recipe and expert advice on diets suitable to our lifestyle is what you will find in our natural and tasty preparations. We at 'EarthPoorna Foods' are glad to serve you delicious food in your office, school, gym, college, and at your home.
---
EarthPoorna – Impact on the life of Women, Farmers, and Consumers:
The best thing about EarthPoorna is that the chemical-free raw materials are procured directly from the farmers. In the initial days, it was difficult to get ragi grains, but slowly Sucheta Bhandare convinced the farmers of her locality to cultivate and promised to pay a better price. Farmers were happy and started cultivating ragi in their fields when they could find a better market for their produce.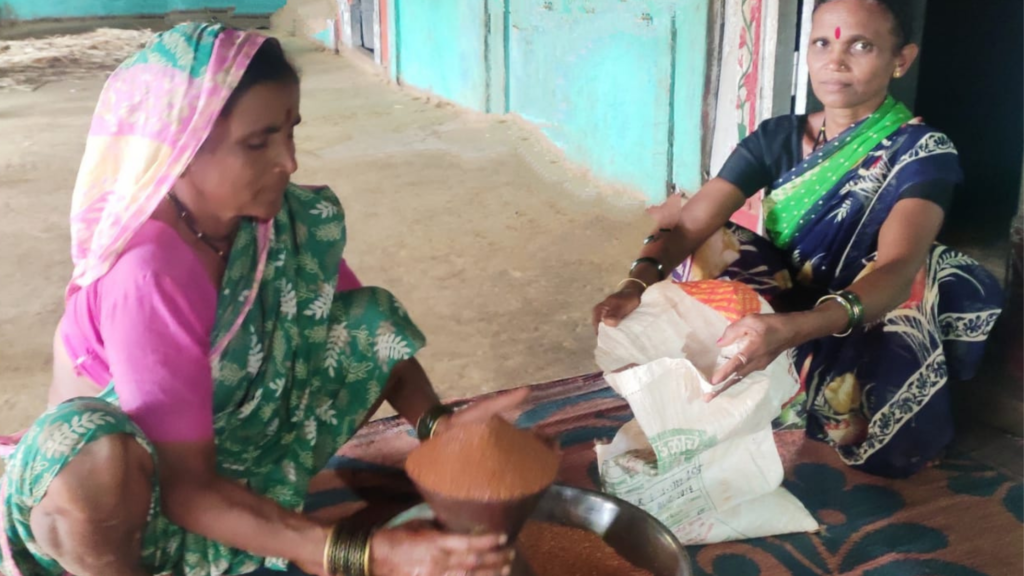 EarthPoorna has a team of dedicated and well-trained women who make delicious, healthy, and nutritious ragi ladoos. This venture has bought about a change in the life of the women and improved their livelihood status.
The EarthPoorna Ragi Ladoos impacted the health of the consumers. Now, people have got a nice product to choose from. Ragi Ladoos has reached the different corners of the country. The feedback from the consumers is amazing and they are recommending it to their friends and relatives. They liked the taste of the Ragi Ladoos. It is becoming a part of every festival in India. It has created positive vibes among consumers.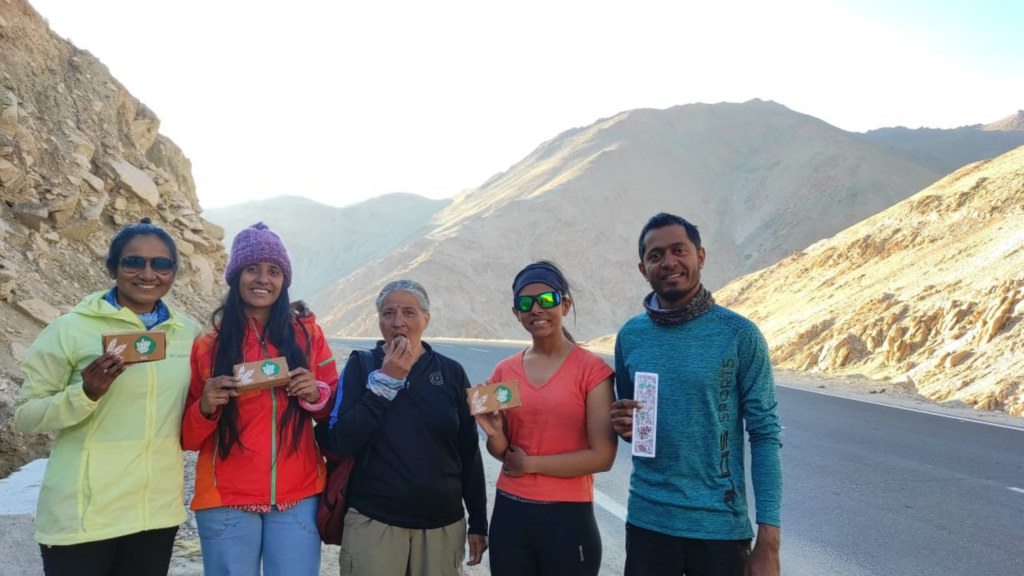 ---
The uniqueness of EarthPoorna's Ragi Ladoos:
The Ragi Ladoos are made by maintaining proper hygiene and cleanliness. These products are tested in the Government Lab and a proper nutrients certificate is obtained and also certified by the Food Safety and Standards Authority of India (FSSAI). Ragi Ladoos is made under the guidance of a Nutritionist and Ayurveda practitioner.
Ragi Ladoos are made in four variants. The main ingredients of the ladoos are Ragi flour, Jaggery, Cow Ghee, dry fruits, dry dates, flax seed powder, and Cardamom powder. One of them is the multigrain ladoo which is made with a combination of pulses, flax seeds, jaggery, ghee, and almonds. Research has found that millets in combination with pulses improve the bio-availability and absorption of nutrients in the body.
This makes EarthPoorna's Ragi Ladoos unique in the market.
---
Online Presence of EarthPoorna's Ragi Ladoos:
The presence of ragi ladoos in the online platform connects consumers from different corners of the country.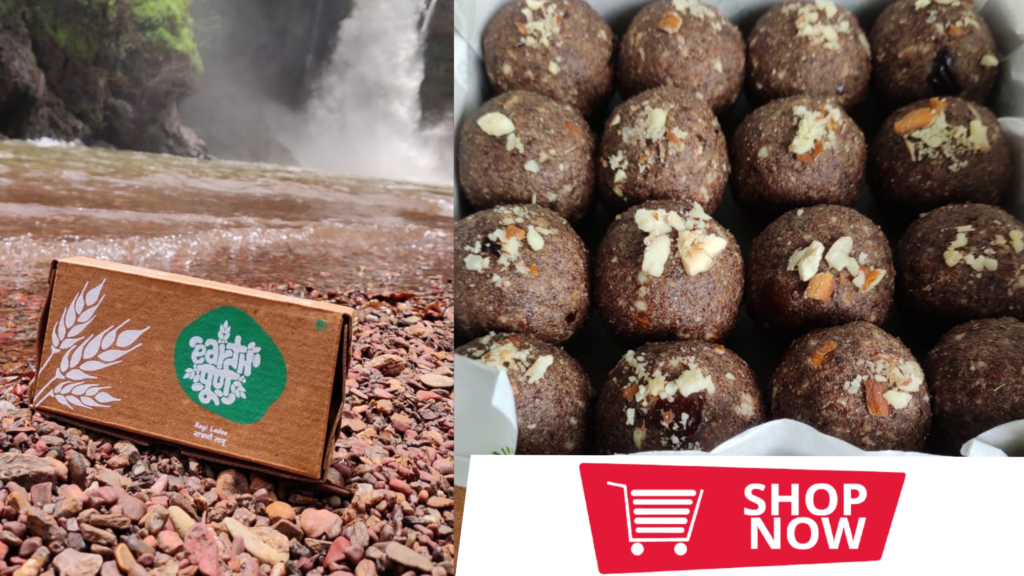 Adding Ragi Ladoos to your diet will definitely keep you and your family healthy. EarthPoorna's venture works for the sustainable development of farmers and simultaneously provides you with wholesome and healthy food. I hope this social enterprise will flourish more in the days to come and bring smiles to the face of the farmers and keep us healthy.
Author: Tapas Chandra Roy, A Certified Farm Advisor on Millets, 'Promoting Millets from Farm to Plate'. In a mission to take the forgotten grains- Millets to Millions. To remain updated on my blogs on millets you can join my Telegram Channel – Millet Advisor.