Can we eat Millets Daily?
The demand for Millets is growing as people around the globe have become more conscious about their health. Most of the health problems arise only due to the food we intake. The magnificent ancient grains taking their place in the diet plan due to their high nutrition profile. But while planning to include it in the diet, the spontaneous above question arises- "Can we eat Millets Daily"? Don't worry, today I will be answering all the queries, and by the end will ensure that every stone of doubt is overturned.
Benefits of eating Millets Daily:
Millets were part of our diet as history speaks that Millets were cultivated around 7000 years back. In India during the 1960s Millets were the staple food grains but gradually after Green Revolution, it was replaced by Wheat and Rice. But now the trend of local grain has come back. Let us understand the benefits of eating Millets daily. Embracing the goodness of millets will definitely improve our health and immunity. In 2021, we should focus more on food rich in nutrients, minerals, vitamins, proteins, and anti-oxidants. I will say Millets are the right grains.
Millets are rich in Nutrition:
Good nutrition is essential for our body to function well and to maintain good health. Millets are a good source of Calcium, Magnesium, Manganese, Phosphorous, Copper, Iron, and many more. Take the case of Ragi, it contains about 364mg/100 g of grains. Calcium is essential for strong bones. Pearl Millet is rich in Iron and Zinc and it is recommended for pregnant women.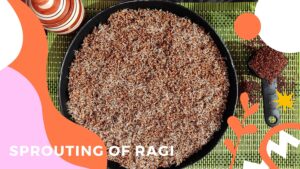 Millets help to build Strong Immunity:
Strong Immunity is required to fight infection in our body. Millets are superior to other grains in terms of carbohydrates, dietary fiber, antioxidants, proteins, vitamins, minerals, and micronutrients. Research has found that Strong Immunity is the key weapon in the fight against COVID-19.
Millets help in Weight Loss:
The presence of high dietary fiber and low-calorie count in millets helps in the weight loss journey. If you are looking for losing weight then you can select the best millets for weight loss like Foxtail Millet, Sorghum, Barnyard Millet, Pearl Millet, and Finger Millet. Millets also contain Policosanols and Tryptophan which help in Weight loss.
Click to Buy Best Millets Online
Millets help in controlling the sugar level:
The low glycemic index of millets favors controlling the blood sugar level in the body. In my previous blog, I have mentioned the millets which are good for diabetic patients.
Related Post: 10 Health Benefits of Millets
How much Millet to Eat Per Day:
Research has made things simple and easy for us. Blindly following a diet or taking a particular cereal every day may have side effects on our bodies. So taking the right kind of food and the right amount of food is very crucial. According to the ICMR-National Institute of Nutrition, Hyderabad, one should consume about 270 gm of Cereals including Nutri-Cereals(Millets). So, if you are taking millets then you can take about 1/3 rd(90-100gm of millets per day) of the recommended quantity.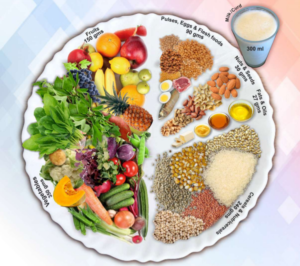 We should not take only millets rather mix prescribed amounts of different types of vegetables, pulses, fruits, nuts, seeds, milk/curd, fats, and oils.
ICRISAT, Hyderabad conducted a scientific study on introducing Millets into a school feeding program and the outcome of the study was phenomenal. To improve the quality of the protein Millets were mixed with legumes. The proportion of essential amino acids in millets and legumes complement each other. So, combinations provide a higher quality of complete protein.
When you cook millets, try to add legumes(Pulses) in the ratio of 3:1(Millets: Pulses).
Click to Buy Best Millets Online
How to eat Millets and include them in our diet:
Always start with one or two millets and gradually include other millets. You can have one millet for two days and then change to another one. Every millet has its uniqueness in terms of nutrition, minerals, proteins, and micronutrients. Previously I have written a blog on "How to cook Millets Perfectly", you can go through it, and definitely it will help in understanding millets better. Let me suggest some millet recipes which you can include in your breakfast, lunch, and dinner.
I think by now you have got the answer to the question "Can we eat Millets Daily"? Make millets a part of your diet and definitely, you will feel the change in you and your family. I have witnessed the change in my family and hoping for the same from you.
If you have any suggestions or advice please do comment below, I will be happy to hear from you.
Author: Tapas Chandra Roy, Certified Farm Advisor on Millets –Promoting Millets from Farm to Plate