Millet Food Festival Ensuring Nutritional Security:
Nutritional Security is achieved "when all people at all times consume food of sufficient quantity and quality in terms of variety, diversity, nutrient content and safety to meet their dietary needs and food preferences for an active and healthy life, coupled with a sanitary environment, adequate health, education and care" (FAO, 2012). No doubt, now India is self-sufficient in food grain production but we are facing the challenges of nutritional security.
So, India is taking a lot of initiative for achieving Nutritional Security by 2030. In Odisha, it is clearly mentioned in Samrudhi (Agriculture Policy-2020) in which the Vision aimed at continuously raising farmers' income and welfare while ensuring nutritional security. Nutrition has become the mainstream of all agriculture activities. Odisha Millet Mission Model is one of the programs ensuring nutritional security.
Food Festival under Odisha Millet Mission:
Special Programme for Promotion of Millets in Tribals Areas of Odisha (Odisha Millet Mission) was launched by the Government of Odisha in 2017 to revive millets in farms and on plates. Under this mission, Millet Food Festival is a program of 2 days. On the first day, the tribal women are trained in making millet recipes, and on the 2nd day, they come with their own millet recipes. This program helps in bringing the forgotten millet recipes and also it gives learning for other women.
Related Post: Traditional Millet Recipes of Koraput and their Perceptions
Millet Food Festival in Koraput:
Millets are part of everyone's diet in the tribal areas of Koraput. We cannot live without millets as it gives us more energy to do all the activities throughout the day. Every morning starts with Mandia Jau (Ragi Porridge) said by Jema Majhi of PaikaPuki village of Gadiaguda Gram Panchayat in Dasamantpur Block.
Millet Food Festivals were organized by DHAN Foundation in Dasamantpur Block. The tribal women were trained on the importance of millets and their nutritional value. They were taught how to make murukkus, ragi pakodas, ragi ladoos, and many more. The children of the village liked the millet recipes which were made on the first day.
In 2019, when I was doing my Project Work on "Utilization of Finger Millet in Nutritional Security" could find out that including millets in the mid-day meals and in ICDS will increase the consumption of millets among the children. Many farmers' concern was that their children hesitate to take millet food at home and they recommended including it in mid-day meals. Many children said that they don't like "Mandia Jau" every day but like to have ragi ladoos, ragi biscuits, cake, idli, dosa, millet upma, etc.
On this day, the tribal women came with many recipes made out of Finger Millet, Little Millet, and Foxtail Millet. Finger Millet is the main crop of most farmers in Koraput as it is easy in cultivating, processing and make food items. But it is not the same case with Little Millet and Foxtail Millet as these millets require processing and it is very difficult to do.
I was very happy to see the millet recipes. Really they have the talent in making awesome recipes. Now, let us see some recipes made by them on the Millet Food Festival Day.
The combination of Mandia Anda with Mandia Ponosh Raav is enjoyed by the children. As you know Jack fruit is known as the poor man's fruit rich in vitamins A, B, C, and Calcium, potassium, proteins, iron, and carbohydrates. When millets mixed with fruits and vegetables it enhances the nutrition profile of the food.
Scientists have found out that a combination of Millets with Pulses increases the quality of protein. The proportion of essential amino acids in millets and pulses complement each other. One such recipe was with millets and arhar dal. In this recipe, water is taken in a kadai and heated up and then the greens and soaked arhar dal are put into it. Turmeric, chili, and salt are added. When it is cooked properly, ragi flour and tamarind are put into it. It is cooked for some time and the recipe is ready. The uniqueness I marked in most of the recipes is that they don't use oil and spicy masala.
In the beginning, they were a little shy to come out with the millet recipes but later on when they were encouraged and motivated. They were told that the best millet recipes will be awarded a prize. Few of them were excited to participate in this program. Looking into the uniqueness of the recipes, the first, second, and third were chosen and awarded. I could mark their happiness when distributing the prizes to the winners.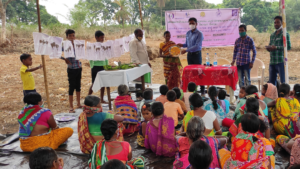 Such Food Festival will encourage the women to make the forgotten millet recipes and it will be learning for other women when they exchange their ideas on how to make the millet recipes. In this way, we can revive the millets on plates and thus ensure Nutritional Security in the tribal areas of Odisha.
Author: Tapas Chandra Roy, Certified Farm Advisor-Millets