Odisha Millet Mission:
Odisha Millet Mission working with a tag line "Reviving millets in farm and on plates". This mission focussed on the tribals areas of Odisha where Millets were the priority crops. As you know that Millets are the only crops that can grow with minimal requirement of water and can withstand drought. No doubt, the crops were grown by the farmers but something was missing and giving a signal that to be addressed. These signals were Productivity, Consumption, Nutrition, Value Addition, Creating demand in the market, Right price, and Processing of millets.
So, Odisha Millet Mission came forward wholeheartedly and ensuring the issues are rightly addressed.
Major Objectives:
Promoting household-level consumption
Setting up decentralized Processing Unit
Improving the Productivity of Millet Crops
Promoting FPOs for marketing
Inclusion of millets in ICDS, Mid-day Meals and Public Distribution System
The approach of the mission is totally different and it involved 3 agencies to be part of it so that it is executed properly at every level. A unique structure was developed and they were the 3 pillars.
Role of Government:
Three-level selection processes of Facilitating Agency through presentation and Field Verification.
Policymaking, meticulous development of guidelines, implementing, and monitoring.
Involvement of all stakeholders in the participatory approach.
Role of Civil Society – led by WASSAN:
Bridge the field level gap.
Active followup on daily basis.
Capacity building with the involvement of agencies.
Annual and Monthly participatory implementation plan.
Support for Departmental Agencies and co-ordination.
Role of Academia – led by NCDs:
State/District Level Consultations
Policy Feedback
National/International partnerships – TIGR2ESS, CFTRI, IIMR
The scale of Odisha Millet Mission:
Beneficiaries: 50 lakhs
Project Duration: 5 years
Reach: 76 Blocks in 14 Districts
Total Budget: Rs.224 Crores
Program Budget: Rs.224 Crores
Procurement/PDS/ICDS : 313 Crores
Outreach:
30 Blocks in 2017
55 Blocks in 2018
72 Blocks in 2019
76 Blocks in 2020
Policy Milestones of Odisha Millet Mission:
Odisha became the first state to develop standard specifications for the millet machinery through a recognized panel of experts from different scientific institutions.
The first state in the country to complete benchmarking of prices of Little Millet and Foxtail Millet.
First State to declare direct incentives to farmers for 3 years through DBT.
Odisha received an award for the best government initiative on millet promotion by MoFPI-IIFPT.
Third State to distribute millets in the PDS in the country
First State to include Ragi Lodoos in ICDS through the support of the District Mineral Fund.
Strategies to Increase the Consumption in Urban and Rural Areas: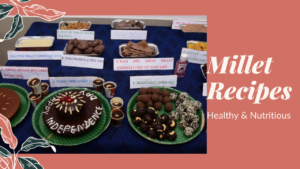 Inclusion in PDS and ICDS
Food Festivals at GP, Block, District, and State Level.
Participation in popular Exhibitions and Melas within and outside the State.
Development of recipes suitable for local culture and eating practices.
Training of home cooks and chefs on millet-based recipes.
Women-led consumption campaign and awareness.
Working with bakeries and popular sweet shops.
Engaging student interns and young people for popularising millets.
The outreach of Consumption related activities:
Distribution of Ragi under PDS to 50 lakhs household in 14 districts.
Ragi Laddu introduced as a morning snack for pre-school children under ICDS in Keonjhar and Sundargarh.
More than 45 events organized and served millet-based food items to 4.4 lakh people in the last two years.
Ragi bakeries in Bhubaneswar are selling Ragi Cookies at OMFED tea stalls and stores.
Other products like Ragi Bread, Sandwiches, Malt, Laddoos, Murukku, etc. are available in the City.
Plan for Millet Stores in Urban Areas under Odisha Millet Mission: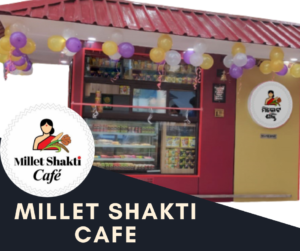 A Millets Cafe to run by SHGs supported by Mission Shakti.
Millet Shakti as the proposed brand name to be common across products.
Cafes across locations to be called "Millet Shakti Cafe".
Millets based hot cooked items and bakery products to be the highlight.
Will also have packaged millet grains and ready to cook products supplied by FPOs supported by Odisha Millet Mission.
15 quick-serve restaurants will be established within the next year with Women Self Help Groups in Urban Areas.
Kiosks at Block towns and Tribal Haat locations serving breakfasts and snacks items.
Mobile Sales Units at District and town levels selling dry and value-added products made by SHGs and FPOs.
More than 100 WSHG entrepreneurs will be trained and supported.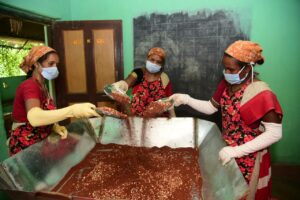 Recently Odisha released the State Agriculture Policy-2020 (Samrudhi) in which the Vision aimed at continuously raising farmers' income and welfare while ensuring nutritional security. Nutrition has become mainstream in different agricultural activities and Odisha Millet Mission will be ensuring that said by Dr.Saurabh Garg, Principal Secretary, Agriculture, Government of Odisha.