Millet Chicken Biriyani: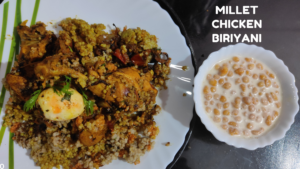 Biriyani is the royal food introduced in India by the Mughals. It is consumed in most of the family during special occasions. Chicken Biriyani is a delicious savory dish loaded with spicy marinated chicken and flavored with spices. In India, everyone makes biriyani with basmati rice but here I have replaced it with Millets. As you know Millets are more nutritious and healthy for us. Today, on Sunday bought a recipe made with Kodo Millet and named it Special Millet Chicken Biriyani. Really, I mean it as the aroma and flavor of the Indian spices are imbibed into it with the spice bag and the homemade biriyani masala.
FIRST AWARD WINNER MILLET RECIPE: Millet Rasgulla
Ingredients for Millet Chicken Biriyani:
Main Ingredients:
Kodo Millet                 – 400 gms(2 Cups)
Chicken                        –  500 gms
Potato                           –   200 gms
Eggs (Boiled)               –  2 Nos.
Ingredients for marinating Chicken:
Curd                                    – 1/2 Cup
Chilli Powder                    – 1 tsp
Turmeric Powder             – 1 tsp
Tomato                              – 2 Nos.
Onion (Fried)                   – 1 Nos.
Ginger and Garlic Paste – 3/4 Cup
Corinaber Leaves            – 1 tbsp
Salt                                     – 10 gms
Ingredients for Cooking Millet:
Water – 4 Cups
Salt     – 1 tsp
Spice Bag
Bay leaves – 2 Nos.
Javitri –         2 Pcs.
Cardamon – 3 Nos.
Black Pepper – 1/2 tsp
Fennel Seeds – 1 tsp
Cloves –      8 Nos.
Marathi maggu – 2 Nos.
Cinnamon – 1 inch
Ingredients for Cooking Chicken:
Mustard Oil – 3/4 Cups
Cumin seeds – 1/2 tsp
Ingredients for assembling chicken biriyani:
Fried Onions – 2 Nos.
Coriander Leaves – 2 tsp
Milk- 4 tsp
Saffron- 1 pinch
Food Colour – 1 pinch
Bay leaves – 6-8 Nos.
Biriyani Masala – 2 tsp
Nutmeg/Jaiphool – 1/2 cut pcs.
White Pepper – 1/2 tsp
Black Pepper – 1/2 tsp
Coriander – 1/2 tsp
Fennel Seeds – 1 tsp
Bay leaves – 2 Nos.
Javitri – 2 pcs
Star Anise – 2 Nos.
Preparation of Millet Chicken Biriyani:
Kodo Millet is washed properly and soaked overnight.
Put the cut pieces of chicken in a bowl and then add curd.
Followed by Chilli powder, turmeric powder, ginger garlic paste, chopped tomatoes, fried onion, chopped coriander leaves, and 10 gm of salt.
Mix everything well and marinate the chicken. Cover it and set it aside for 1 hour.
Meanwhile, prepare the spice bag. Take a small cheesecloth and put the spices like bay leaves, javitri, cardamon, black pepper, fennel seeds, cloves, Marathi maggu, and cinnamon sticks. Tie it firmly with a thread.
Take a pressure cooker. Add the water. Use the water used for soaking Kodo millet. Add the soaked Kodo Millet into it and place the spice bag at the center and cover it with a lid.
Wait up to 2 whistles and then keep the pressure cooker aside to release the pressure automatically and after that open the lid and keep it to cool down.
Meanwhile, prepare the biriyani masala. Take a frying pan and put all the spices like jaiphool/nutmeg, white pepper, black pepper, coriander seeds, star anise, fennel seeds, bay leaves, and javitri. Roast all the spices on a medium flame for 2 minutes.
Let it cool down and then put in a grinder cup and powdered it.
Then take a Kadai/big pot and turn the stove and after 2 minutes put the mustard oil and then the cumin seeds. Slowly add the cut potatoes and fry it on high flame till it turns golden brown in color.
Add the marinated chicken into the Kadai and saute it for 5 minutes and cover the lid.
Lower the flame to medium and cover and cook until the chicken is soft, tender, and completely cooked.
Then comes the assembling of the chicken biriyani. Take a big pot, put the flame on low mode, and put the bay leaves on the lower portion of the pot. Put the first layer with the cooked Kodo millet add then add all the cooked chicken.
Sprinkle with fried onions, coriander leaves, and biriyani masala on it and place the boiled eggs.
Put the second layer of Kodo Millet and then add the milk mixed with saffron and food color. Add the leftover oil from the cooked chicken and sprinkle the fried onions and coriander leaves.
Cover the pot with aluminum foil and then with a lid. Ensure that no air comes out from it.
Cook the biriyani on a medium flame for 2 minutes and then for 8 minutes on a low flame.
Serve the special millet chicken biriyani on a plate and enjoy it with raita.
Hope you liked the Special Millet Chicken Biriyani. Do comment on how it turns out with you. I must also acknowledge the pressure cooker which helped me to make this delicious recipe nicely. It was used for cooking the millet as well as in assembling the chicken biriyani.
My lovely daughter and wife, both contributed a lot to making this wonderful recipe. Without them it is impossible.
When we make a recipe involving everyone in the family, the taste increases manifold. This recipe was awarded 2nd Prize in the Millets Virtual Cooking Competition for ICAR Institutes & Families conducted by the Indian Institute of Millets Research, Hyderabad.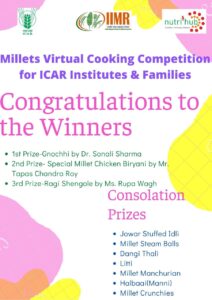 For more Millet Recipes, do follow my Youtube Channel.