MILLET RASGULLA:
                                                        Rasgulla is a juicy milk-based dessert that is famous all over India for its sweetness, spongy, and softness. But making with millet enhances its nutritional value and using jaggery in place of sugar boosts its healthiness. Ragi has multiple health benefits.
I made this Millet Rasgulla on my birthday so that I can distribute it to my friends and spread happiness and promote millet. Now, let us see what are ingredients required for making rasgulla.
Ingredients for Millet Rasgulla:
1 liter Milk

2 tsp Vinegar

250 ml of cold water

2 tbsp Ragi flour
 To make jaggery syrup:
1 cup jaggery powder

8 cups of water

3 -4 cardamon 
Procedure for making Millet Rasgulla:
Bring milk to boil in a pot.

Add 2 tsp of Vinegar and stir until the milk curdles and if does not, add one more and stir.

When the milk curdled completely, switch off the stove and rest for 2 minutes.

Put 250 ml of cold water into it.

 Place a strainer over a bowl and drain the curdled milk.

Rinse the chenna under running water to remove the acidic flavor.

Put it on a cloth and squeeze it well.

Hang it for 2 hours and ensure chenna free from whey.
Making Jaggery Syrup:
Take about 7-8 cups of water in a wide pot and boil it.

Add 1 cup jaggery powder. 

Add the crushed cardamom powder.

Stir to dissolve the jaggery powder.
How to make the Millet Rasgulla:   
Take the Chenna on a flat plate and add 2 tbsp of Ragi flour.

Knead it properly for about 5 minutes.

When the mixture turns uniformly smooth make it into small balls by rolling with your hands.

Bring the jaggery syrup to boil and add the balls one by one into the syrup.

Cover the pot with a lid and boil it constantly for about 20-25 minutes.

After 10 minutes open the lid and turn up the balls gently.

Again cover it for another 10 minutes.

After 20-25 minutes the size of the balls will be double in size.

Transfer it to a bowl with the syrup and allow it to rest and cool down completely.

Millet Rasgullas is ready after 1 hour.
Millet Rasgulla – The First Winner:
It was a great and wonderful day when I could see my name as the First Winner in the Millets e-Cooking Contest organized by ICAR- Indian Institute of Millet Research(IIMR), Hyderabad & Nutrihub TBI. Really, I never expected to win the contest. The only thing that I gave is the dedication to making the recipe and the full effort in doing the entire video. My wife and daughter continuously supported me to make this Millet Rasgulla.
I am very much thankful to IIMR, Hyderabad, Nutrihub, and Judges for selecting this recipe in the first position.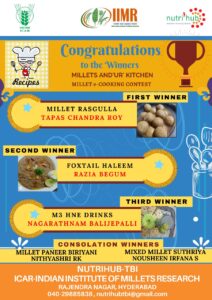 Conclusion: Hope you liked the recipe and do give it a try at home, definitely you will enjoy making and taking this millet rasgulla. Please do let me know how it turned out with you.
Author:
Tapas Chandra Roy, A Certified Farm Advisor on Millets, promoting millets from "Farm to Plate'. In a mission to take the forgotten grains- Millets to Millions. To remain updated on my blogs on millets you can join my Telegram Channel
 – Millet Advisor.