CONSUMPTION OF FINGER MILLET: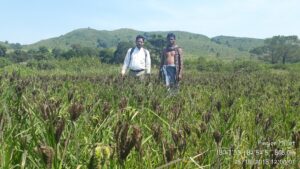 In the Finger Millet field with the farmer
Finger millet is among the major crops cultivated in the undulating terrains of Dasamantpur Block, Koraput district of Odisha, India. It is consumed as a staple food and drink by the local tribal communities. However, over the years there has been a rapid decline both in the area and in the production of the crop leading to reduced grain availability for household consumption.
 Further, due to traditional cultivation practices, the grain yield is as low as 2.64 quintals/acre under the broadcasting method, and whereas by line transplanting and SMI method the yield goes to 4.95 quintals/acre.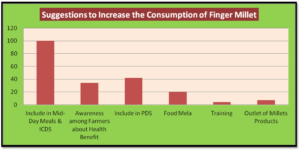 Suggestions to Increase the Consumption of Finger Millet
Out of 100 samples under survey, it was found that most of the sample households consumed ragi daily and few occasionally but their concern was that their children do not take ragi. So all recommended to include ragi in mid-day meals and ICDS.
The second suggestion (42 sample household) was to include ragi in PDS followed by awareness creation among farmers about health benefits, organizing food Mela, an outlet of millet products in the local market and finally training to farmers.
The National Food Security Act (2013) provides for the inclusion of millets in government food distribution programs like the Public Distribution System (PDS), midday meal in schools, and Supplementary Nutrition Programme (SNP) under the Integrated Child Development Services (ICDS). Odisha has already commenced doing this under Odisha Millet Mission.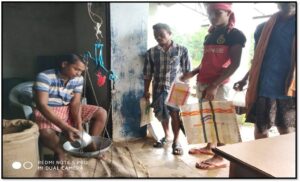 Distribution of Ragi under PDS
In 2018-19, around 18,000 quintal ragi were procured in the districts included Koraput, Malkangiri, Rayagada, Ganjam, Gajapati, Kandhamal, Kalahandi, Nuapada, Balangir, Sundargarh, Keonjhar, and Bargarh from farmers @ Rs.28.97 per Kg.
In 2019-20, the Odisha government had decided to procure ragi from these districts by providing a remunerative price of Rs 3,150 per quintal to the ragi growing farmers and around 94,691 quantal ragi were procured from 23,238 farmers of Odisha.

Really, it is a good sign that the ragi consumption will increase in many folds in these tribal areas of Odisha, and surely this will address the nutritional security.

Author: Tapas Chandra Roy, Assistant Agriculture Officer, Department of Agriculture and Farmers' Empowerment, (Govt. of Odisha)