How to Cook Millets Perfectly:
Millets the Superfood, the powerhouse of nutrients that are rich in iron, calcium, protein, vitamins phytochemicals, and anti-oxidants. Due to its magical properties, it has again come back to our plate. These grains were completely lost and we also forgot or not familiar with them. In the beginning, it was also a problem for me to cook millets. But gradually I became acquainted with it.
Today, in this blog I will be sharing all my experience and how to cook millets perfectly. We will be discussing the following points:
Millets and types of millets
How the millet grains look after dehulling
Best Way to Cook millets
My Favourite Millet Recipes
Millets and Types of Millets:
Millets are the small-seeded grains that are gluten-free, diabetic-friendly with full of nutrients, we can say the treasure of nutrients. It was mostly consumed in every household in India but slowly it was disappearing from our plate due to our more preference for wheat and rice. But now, due to lifestyle diseases again we are bringing back to our diet.
There are 9 types of Millets grown in India and if you like to have a glance at each millet, then this article is for you: Close View of Millets
How the Millets grains look after Dehulling:
The right technique to cook millet is to go with measurement. If the measurement of millet grains and water is perfect, we get the right cooked millets. Lets us follow some tips before and after cooking millets.
Soaking of Millets:
When both parents are working and there is always a hurry in cooking breakfast or lunch and the same case is ours. So, we decide what to cook the next day before going to bed. We always soak the millets overnight and it becomes easy and fast in cooking. The best thing is that soaking millets for 6-8 hours breaks down the phytic acid and becomes easy for digestion. If you are planning to cook millet, remember to soak it overnight.
Measurement of Water and Grains:
We require water as per the Millet Recipe we plan to cook. Let me give you the exact measurement for different recipes.
Millet Rice – 1:2 (Millet : Water)
Millet Upma with Vegetables – 1:2.5
Millet Khichdi with Pulses & Vegetables – 1:3
Millet Pongal/Porridge – 1:4
Cooking Time:
Generally, we require about 20-25 minutes for cooking Millets. If we are cooking in a pressure cooker, we need to go for 2 whistles on a medium flame, and if in an earthen pot/vessel we need to cook for 12-13 minutes on medium flame by covering with a lid. After 12-13 minutes turn off the gas and give a resting time of 10 minutes. Resting time makes the millets fluffy.
When we are cooking in a pressure cooker for up to 2 whistles, we need to allow to rest for 10 minutes or up to release pressure.
My Favourite Millets Recipes:
Millet Pulao Recipe: Millet Pulao Recipe is delicious, healthy, nutritious, and easy to prepare. Millets are good for health as it is gluten-free, rich in dietary fiber, and also helps in weight loss. In this pulao recipe, I have taken Foxtail Millet. But you can take Kodo Millet, Barnyard Millet, or Little Millet. Read More
Foxtail Millet Upma Recipe: Foxtail Millet is diabetic and heart-friendly. It is used as an energy source for pregnant and lactating women, and for sick people and children. Foxtail Millet releases glucose steadily without affecting the metabolism of the body so, it has a low glycemic index. The incidence of diabetes is found to be rare among the people consuming foxtail millet. Read More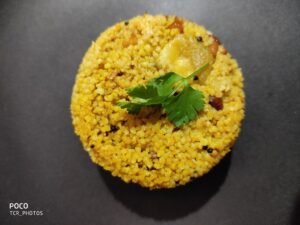 Barnyard Millet Upma Recipe in an Clay/Earthen Pot: Cooking in a Clay/Earthen pot increases the taste, flavour and aroma of the food. When we visit Lord Jagannath Temple at Puri, Odisha we never miss the Prasad ccoked in an earthern pot. So, I thought of sharing the Millet Recipe cooked in an earthen pot and you can give a try.
Proso Millet Khichdi: Millet Khichdi is healthy and nutritious. This recipe is good for children as I also give it to my daughter of 5 years old. This recipe is made using ingredients like proso millet with dal and many vegetables. In the case of vegetables, you can add as per your choice.
Kodo Millet Chicken Biriyani: Biriyani is the royal food introduced in India by the Mughals. It is consumed in most of the family during special occasions. Chicken Biriyani is a delicious savory dish loaded with spicy marinated chicken and flavored with spices. In India, everyone makes biriyani with basmati rice but here I have replaced it with Millets. As you know Millets are more nutritious and healthy for us. This recipe is made with Kodo Millet and named it Special Millet Chicken Biriyani. Really, I mean it as the aroma and flavor of the Indian spices are imbibed into it with the spice bag and the homemade biriyani masala. Read More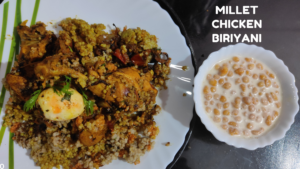 Hope this blog will help you in cooking millets perfectly and you can start adding millets to your regular diet. I am promoting millets from "Farm to Plate" so that the goodness of millets reach maximum people. Please do subscribe to my Youtube Channel for more updates on Millet Recipes.
Author: Tapas Chandra Roy, Certified Farm Advisor on Millets. Promoting Millets from "Farm to Plate".