Millets Crop of the Future: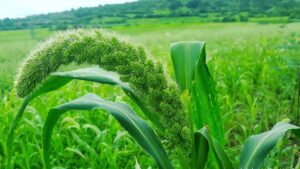 Millets are ancient Super grains the reservoirs of nutrition for better health. Millets
(sorghum, pearl millet, and small millets) are important food and fodder crops in semi-arid regions and are predominantly gaining more importance in the world and in India.
The government of India has approved 2018 as the National Year of Millets to boost production of the Nutri-cereals. Observation of Year of Millets will help in the promotion of production and consumption of millets in rural and urban areas. Millets are the only crop that will address the important issues in the future:
1. Food, Feed, and Fuel.
2. Malnutrition
3. Health
4. Climate Change
Definitely, we can say, Millets Crop of the Future.
Why Millets???
1. Millets are rich in Nutrients:
Now millets are called the Nutri-cereals. Millets are nutritionally superior to wheat and rice owing to their higher levels of protein in Foxtail and Proso millet, with more balanced amino acid profile, crude fiber and high minerals such as Calcium in Finger Millet, Iron, and Phosphorous in Pearl Millet, Magnesium in Sorghum, Zinc in Little Millet.
Sorghum and Pearl Millet is an excellent form of fodder that contains beneficial minerals, such as iron, magnesium, phosphorous, potassium, and calcium. The lethal effect of HCN in Sorghum fodder is reduced to a safe level after 50% of flowering. Brown Mid-rib variety of sorghum is low in lignin, for which it is easily digestible which in turn enhances the milk yield of cattle.
The Sweet Sorghum is a promising millet for providing ethanol for the ethanol blending project(EBP) undertaken by the Government of India.
Related Post: Types of Millets and their Health Benefits
2.Health Benefits:
Due to modern lifestyles, health-related problems like obesity, diabetes, hypertension, and cardiovascular disease running rampant, millets have returned as a wonderful gift to live a healthy life without consuming loads of anti-diabetic and anti-hypertension medicines that are not only very expensive but also have serious side-effects in the long run.
The high level of calcium addresses osteoporosis and obesity. The high levels of tryptophan in millet produce serotonin, which is calming to our moods. Magnesium in millet can help reduce the effects of migraines and heart attacks. Niacin (vitamin B3) in millet can help lower cholesterol.
Millet consumption decreases triglycerides and C-reactive protein, thereby preventing cardiovascular disease. All millet varieties show high antioxidant activity. Millet is gluten-free and non-allergenic and solution to celiac disease.
The incidence of obesity is increasing at a tremendous rate in India and Millets can help in weight loss. The specific content in millet like high dietary fiber, policosanols, and tryptophan helps in weight loss.
Related Post: Best Millets for Weight Loss
3. Income and Livelihood Source:
Millets are important staple cereal crops for millions of smallholder dryland farmers especially the tribal belts of India. They offer income and livelihood in difficult times. MSP of Millets has been increased to manifold this year and surely this will reduce the incidence of distress sale and boost the millet cultivation. In Kharif-2019, Odisha has procured about 93,000 quintals from small and marginal farmers at a rate of Rs.3150 per quintal.
4. Resilient to Climate Change:
These crops are adapted to a wide range of temperatures, moisture-regimes, and input conditions. Millets are photo-insensitive and resilient to climate change. They are hardy, resilient crops that have low carbon and water footprint. They can withstand high temperatures and grow on poor soils with little or no external inputs. In order to produce 1kg of Rice, we require about 5000 liters of water, whereas 300-400 mm of rainfall is sufficient for millets.
So, it is the best time to promote millets and that should start from every household of India. Odisha has taken a step ''Odisha Millet Mission'' and let us join hands together.
Author: Tapas Chandra Roy, Certified Farm Advisor on Millets