Inspirational Organic Farmer grows Millet:
You must have heard the slogan "Jai Jawaan Jai Kisaan"  by our second Prime Minister of India Lal Bahadur Shastri. The slogan was to enthuse soldiers to defend India and at the same time cheering farmers to increase agriculture production. This endeavor was carried forward by a tribal farmer of Koraput. Ratnakar Jani(55) of Paraja Godri Village of Gadiaguda Gram Panchayat of Dasamantpur Block, Koraput, Odisha. He is now growing Finger Millet on 4 acres of land and has become the inspirational organic farmer after retirement from the Defence Force.
Serving in the Defence Forces:
I joined the Defence Forces in Assam Rifles on 20th April 1989. I was selected based on the open rally test and physical fitness held at Jeypore, Koraput. In the tenure of my 22 years of service in the Defence Force, I had the opportunity to work in Jammu & Kashmir, Jabalpur, Hariyana, Manipur, and in the North-Eastern States(Assam, Nagaland, Tripura, Meghalaya) in the rank of Hawaldar.
As you know that Assam Rifles is the oldest paramilitary force of India. I feel proud to be part of protecting our country from enemies said, Ratnakar Jani.
Journey in Farming:
After retirement, I had in my mind to do something good. I always had an interest in doing farming said, Jani. He has 7 acres of land in which 3 acres he grows mango, lemon, chilies, sweet potato and done teak plantation and in 4 acres he has completed devoted to Millet farming. He has grown finger millet totally organically. He has followed the System of Millet Intensification method. He has completely transplanted the 25 days seedlings maintaining a distance of 10 inches from plant to plant and row to row.
Technologies followed in Finger Millet Cultivation:
Selected good finger millet variety( ML-365 & Jana Mandia)
Done the seed treatment with Bijamrit.
Raised the seedlings on a raised bed.
Transplanted the 25 days seedlings.
Followed the System of Millet Intensification(SMI) Method.
Used 2 ton of Farm Yard Manure per acre.
Sprayed Jeevamrit 3 times.
Used Cycle Weeder for weeding.
Supported by Odisha Millet Mission:
The 4-acre land was infertile and was full of stones and pebbles. The soil of his land was tested under Soil Health Card Scheme in the year 2016. It was found that the soil was acidic and contained less Organic Content, Nitrogen, Phosphorous but high Potassium. He wanted to do organic farming.
Ratnakar Jani was supported by Odisha Millet Mission. The facilitating Agency under Odisha Millet Mission- DHAN Foundation came forward and guided him from seed to market. With support from DHAN Foundation, he was able to grow Finger Millet on his 4-acre land. He sprayed his crops 3 times with jeevamrut and done weeding using Cycle Weeder. The cycle weeder was provided under this project.
By using cycle weeder he was able to reduce his labor cost towards weeding.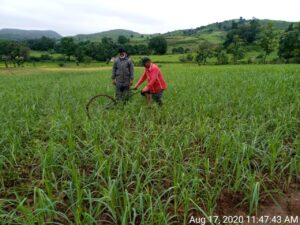 In my recent study, it was found that weeds are the major constraints in Finger Millet Cultivation. Under Odisha Millet Mission, he will receive incentives of Rs.5000/- per hectare for following the SMI method, and also he can sell his surplus produce in the mandi @ Rs.32.95 per kg of finger millet.
On 13.11.2020, a Crop Cutting Experiment was conducted in his field and it was found that in 5m by 5m CCE, the green weight was 12.08 kg. I think it is a good yield looking into the factor of soil fertility. He is expecting 40 quintals from his 4-acre land.
In the future, he has a plan for seed production and to supply the seeds to the farmers in his locality. His initiative is highly appreciated and the farmers of his village will be inspired by his work in Millet Farming.